Marcel Meili, 1953 – 2019
In memoriam
My friend Marcel Meili passed away in Zurich on 18 March 2019.
A valued architect, an intellectual of clear, fine perception, and a charismatic Professor of the ETH, he leaves a large legacy.
I will remember his generosity, openness, warmth and complicity.
Lives like that of Marcel, based more on knowing, expanding and offering than on repeating, closing and possessing, are not common.
With my remembrance and my affection,
Rest in Peace.
Josep Lluís Mateo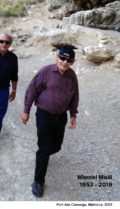 View photo