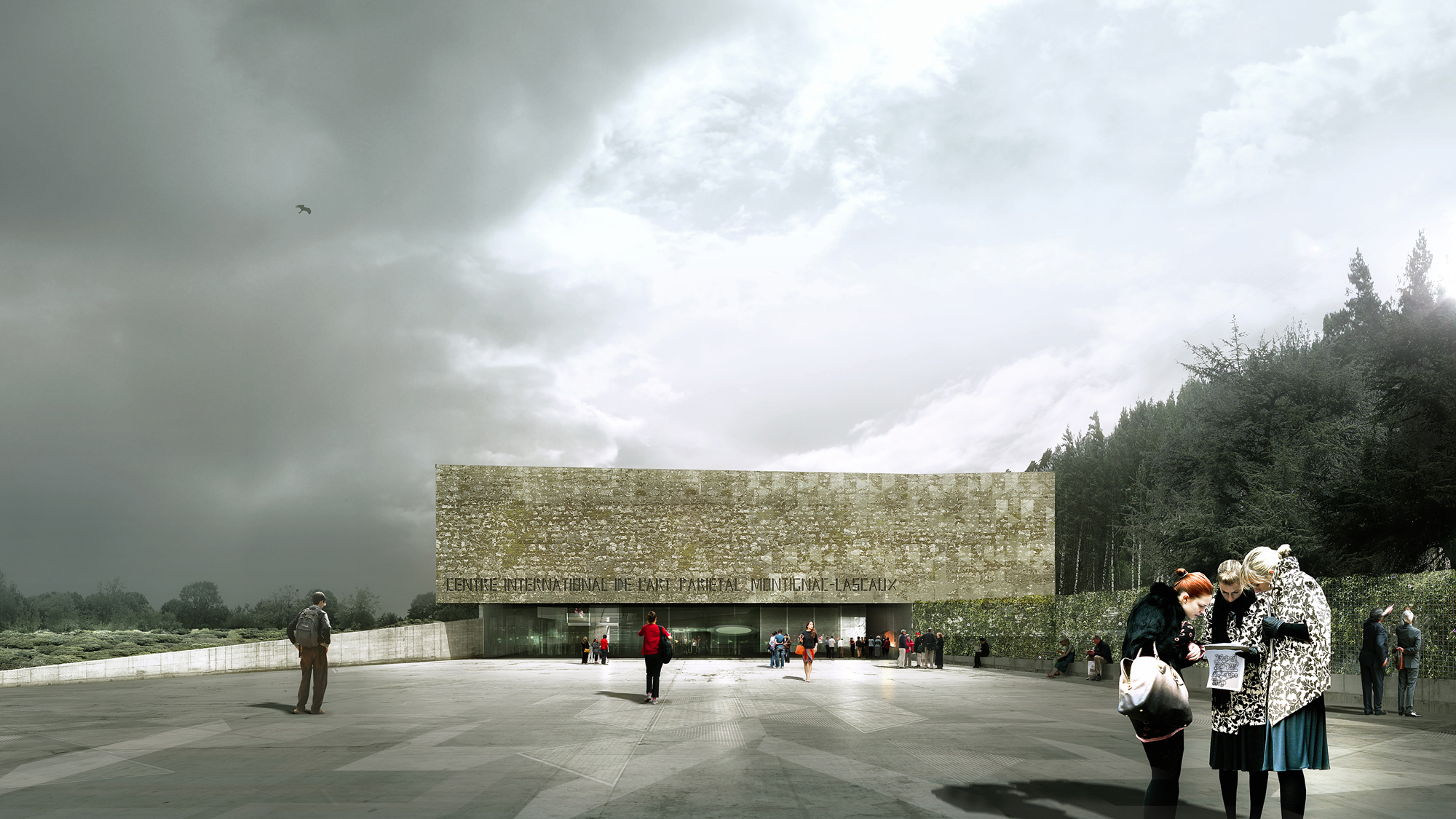 LASCAUX IV: International Cave Art Centre in Montignac-Lascaux, France





View all photos
"…μεμνῇτ' ἂν ὅτι διτταὶ καὶ ἀπὸ διττῶν γίγνονται
ἐπιταράξεις ὄμμασιν, ἔκ τε φωτὸς εἰς σκότος
μεθισταμένων καὶ ἐκ σκότους εἰς φῶς." [518a]

Πλάτωνος "Η Αλληγορία του Σπηλαίου", ΠΟΛΙΤΕΙΑ, 6o βιβλίο

"… any one who has common sense will remember that the bewilderments of the eyes are of two kinds, and arise from two causes, either from coming out of the light or from going into the light."

Plato: "Allegory of the Cave", The Republic, Book VI
A gentle slope leads us down into the earth and gradually accustoms our eyes to the dark, preparing us for the visit.
There, inside, our only contact with the outside is the presence close by of the mountain and the enduring rocks that have guarded the treasure within, and then the woods and, more vaguely, the sky.
As we leave the cave, our flickering shadows, the light and the sun mark an ascending movement to the upper level. Further on, the sun guides our steps to the upper level: a place of objective knowledge, of science and, finally, at the end, the most habitual, mundane part of the programme.
Descending is a sudden, direct fall towards the outside.
To convey the emotion of Lascaux, the presence close at hand of something that is distant and remote, is the object of the space.
To construct it, we have to dig into the earth, raise the walls, rip out the floors, protect the roof.
We address these operations with a primary logic that is at once archaic and contemporary.
We touch the ground attentively, letting the groundwater follow its course and resting carefully on the rock. The walls and the structures are clear, rigid, but positioned in keeping with the use of the spaces: they have a tectonic presence.
Outwardly, the building resembles the Château, or the bridge over the Dordogne, massive structures of stone, with varied detail and texture.
Its scale is not domestic (it must not be), but nor is it oppressive. We thought of concrete with local stone aggregate and white cement: the new contemporary stone.
Draft of the project description by Josep Lluís Mateo with Reza Azard.
Tipology: Museum
Project: 2012
Surface: 8,180m2 buildings + 6,5 hectares outdoor spaces
Location: Montignac-Lascaux, Dordogne, France.





View all plans