Laying the first stone in the apartment building in Heerhugowaard, Holland
The first stone of the apartment building designed by mateoarquitectura in the centre of Heerhugowaard, Holland, will be laid on Wednesday 22 May at 15:30.
The official ceremony of laying the first stone will be preceded by the brief intervention of the parties involved in the project, during which Josep Lluís Mateo will present the architectural scope of the programme.
With a gross floor area of 8,500 m2, the building will house 80 apartments. The idea behind its rugged, rustic, varied envelope is to avoid typical Dutch abstraction and generate a more complex, perhaps baroque, skin than is usual, as an immediate reaction to the nearby domesticity.
The harder, most superficial layer uses different colours and textures of brick, a traditional Dutch material, while a second layer of painted timber anchors the building in its setting.
The façade opens onto the street leading to the canal, with glass as its principal material.
The car park, which could not be undergrounded, is situated in the courtyard, covered by a layer of vegetation that provides a filter from the outside.
Building work is expected to be completed in spring 2020.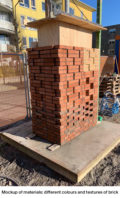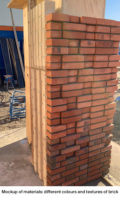 View all photos