Largo da Devesa City Square in Castelo Branco, Portugal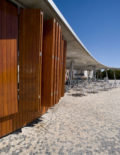 View all photos
Currently much degraded, the historic center of Castelo Branco calls for drastic change and modernization. The Largo da Devesas Park will be reorganized thanks to an ambitious project involving pedestrianization and the siting of road traffic and parking below ground.
The design of the park adds commercial and leisure uses (I hope) with a simplicity in tune with the dignity of the old and pedestrianalizes area with hard paving.
Geography is important (a new central lake), while the detailing attempts to use local technology with affection and irony.
Josep Lluís Mateo (2002)
Typology: City Square
Project: 2000 – 2006
Construction: 2006-2007
Surface: 60,000 m2
Site: Largo da Devesa City Square, Castelo Branco (Portugal)
Photo: Ferran Mateo





View all plans