Redevelopment of the former Catex factory to communal amenities inBarcelona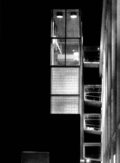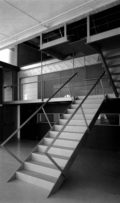 View all photos
The building of the factory was a strange French style construction, built with catalan vault and steel structure. The roof was an extraordinary wooden structure that climbs above the solid block.
On the ground floor, we had to build a swimming pool. In the inside of the existing aisle we installed the changing rooms and showers, and the small pool, trying to keep the space continuity of the ceiling.
A new aisle was built for the main pool, that was not compatible with the order and dimensions of the existing structural system. The hall of the pools is thought as the strict recurrence of the concrete structure emphatically covered with closing walls: different skins over a regular bone structure.
The Second and Third Floors contain neighbourhood facilities, plus a lecture room and a small theatre. We worked there to value the space characteristics of the old building with a light construction, ironically not tectonic, and with the use of colours to personalize each floor and emphasize the provisional festive aspect.
Typology: Cultural Center
Project: 1984
Construction: 1991
Surface: 1.500 m2 (new construction) + 6.500 m2 (restoration)
Site: Poble Nou, Barcelona (Spain)
Photo: Christian Richters, Anna Muller





View all plans