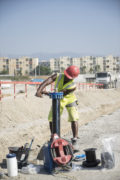 View all plans
A straight line in the territory.
Movement. The tram.
Now the line has things around it, randomly.
Tomorrow, perhaps, new constructions will accompany it.
For the moment there is earth, boundary walls, tubes.
Very shortly we will cover the ground with stones. Just stones.
No asphalt.
Hard space.
However, vegetation and trees will also accompany us.
They will protect us from the sun.
J.LL.M.
Central axis of a multimodal hub. Grand Arénas. Nice.
Under construction. (End summer 2018)
Josep Lluís Mateo – mateoarquitectura
©images: Aldo Amoretti