Josep Lluís Mateo journeys to German Romanticism
From October 2019 to January 2020, the Goethe-Institut Barcelona is organising the cycle A Journey to German Romanticism, with talks, screenings and concerts that explore central themes running through the movement in Germany.
In this context, Josep Lluís Mateo will be talking about Architecture during Romanticism. Karl Friedrich Schinkel and the Construction of a New Zeitgeist, this coming 24 January.
"Karl Friedrich Schinkel (1781-1841) is a figure in the field of architecture comparable to Goethe or Hölderlin. Constructor of the great monuments of the early days of the new metropolis of Berlin, he transformed the beginnings of German Romanticism into a solid basis for later reference. His influence extended from the classicism of Heinrich Tessenow and Albert Speer to Walter Gropius and Mies van der Rohe, a self-professed disciple of Schinkel.

My intervention in the cycle about German Romanticism at the Goethe-Institut Barcelona (October 2019–January 2020) will look at his work and career, and relate it to the southern world."
Josep Lluís Mateo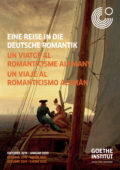 View all photos
Date: 24 Jan 2020
Venue:
Goethe-Institut Barcelona
Carrer de Roger de Flor, 224
08025 Barcelona
Time: 18:00
Language: German
Open to students of the Goethe-Institut Barcelona