Banc Sabadell model office in Barcelona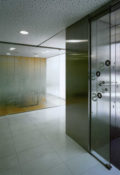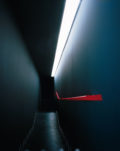 View all photos
A bank branch is a unique space because it lies between two different traditions, that of administrative office spaces and that of commercial shops.
A bank branch has communicative or merchandising needs, those of public contact, and it also needs to have workspaces that are more private.
Here, we have tried to integrate these two themes in one single space. Modern bank branches are also service centres that, because of new technologies, allow for a more abstract and distant relationship with money.
We have taken into account this fact to insist on spatial fluidity and inter-relationships as design arguments.
Clarity, openness, simplicity, and transparency, with at times a touch of irony, are qualities present in my work and these can all be found here.
Josep Lluís Mateo, 2002
Typology: Office building
Construction:  2002-2004
Site: Barcelona
Photo: Christian Richters



View all plans