Guided visit to Banc Sabadell Company HUB
Through large windows, the space opens up to its surroundings, the city.
When we cross the threshold of Banc Sabadell Company HUB we enter an open space, with no physical barriers to interfere in interactions.
Designed to encourage communication for companies of any size and sector, with the bank and among themselves, the flexible space is organised for networking.
Its 1,000 m2 are designed to generate conversations at different levels: queries with quick answers; specific ones, about knowledge and training; and inspiring ones, for professional growth.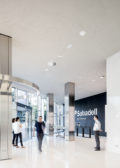 View all photos
Left, the reception desk and technology corner. A space for consultations and information.
Right, the open-plan space clad with Alicante marble projects the light that is drawn inside though the large windows. The high tables and stools make for smooth relations.




View all photos
A slight change of level takes us to the Forum.
In this stretch, where we walk alongside the passers-by, we are accompanied by a natural garden that acts as a filter between inside and out. Urban nature.


View all photos
The Forum is a space for innovation, for growth. Designed to mould to the needs of each event, workshop or conference, it is a tool at the service of companies where the users have total control over the space.
Its transparent glass walls, direct visual contact with the exterior, become opaque as required by the user.



View all photos
Beyond the Forum, we move into the more private areas, isolated from the external flow of the HUB:
Coworking rooms where users can go to work or organise meetings.
Specific consultation area.
Meeting rooms equipped with the latest technologies.
The work area, isolated from external distractions.
And the coffee corner, where spontaneous interactions take place.

View photo