500 Housing Units in the residencial area of La Maquinista, Barcelona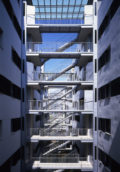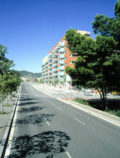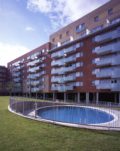 View all photos
The urban plan predefined a large closed city block with a number of small buildings in the center. Based on this compulsory schema our intervention has consisted in:
A void
Considering the empty garden as a structuring center of the complex by providing entrance to the houses thereby, linking the vertical void of the patio with the horizontal void of the general entrance porch. Vegetation occupies everything.
Volume
Working with volume, above all in relation to the upper floors, taking advantage of the singularity of the upper area for special units with outside terraces and spaces in order, by varying the built masses, to elicit a skyline.
Conventional materials
Using the expressive possibilities of traditional/conventional construction techniques (brick, artificial stone, concrete).
With a concerted attempt at precision and detailing in the minor world of customary convention.
Typology: Housing
Project: 1998
Construction: 2000-2002
Surface: 67.000 m2
Site: Sagrera, Barcelona (Spain)
Photo: Xavier Ribas





View all plans